Whether you're a freelancer working with clients or a business with a small team of staff, collaboration tools are vital for businesses. Collaboration tools help you share ideas and information quickly, keep your team members up to date, and streamline workflows. As your business grows, here are 10 excellent collaboration tools to consider using.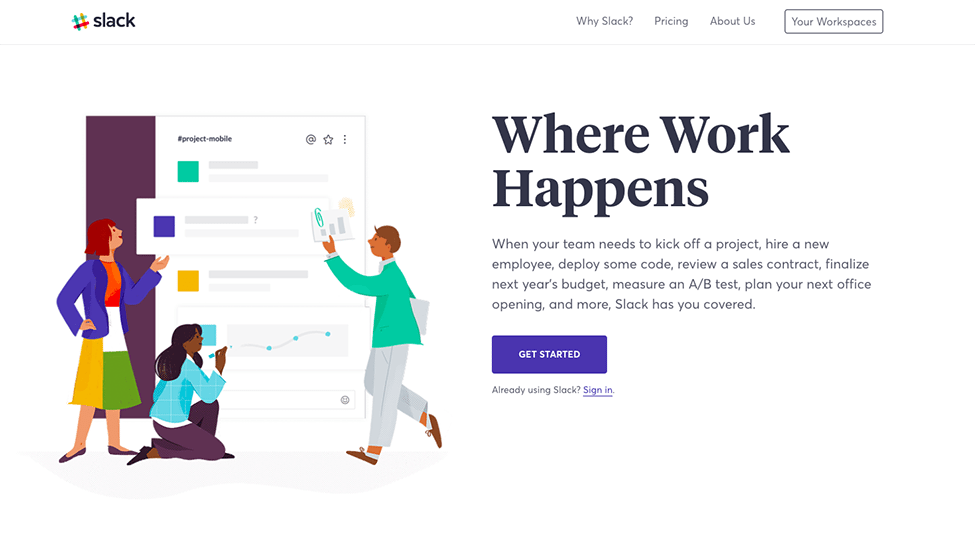 If long and confusing email chains are slowing you down, consider using Slack. Slack is one of the most widely used workplace communication tools. Instant chat, file sharing, and groups and private channels are some of the top features of this platform. You can create private chat rooms, groups, or channels for specific projects or tasks, and converse with your entire team in real time.
Slack is free to use for small teams, though a small fee is applicable to use the platform as an integrated business solution and/or with advanced features.
If you're looking for a full-featured platform, Scoro could be the solution. This end-to-end collaboration and project management platform is designed for professional and creative businesses. Scoro incorporates project management, work and task scheduling, calendar, billing, customer database, and advanced reporting. A paid service, Scoro can be a one-size-fits-all solution for organisations in the professional and creative fields.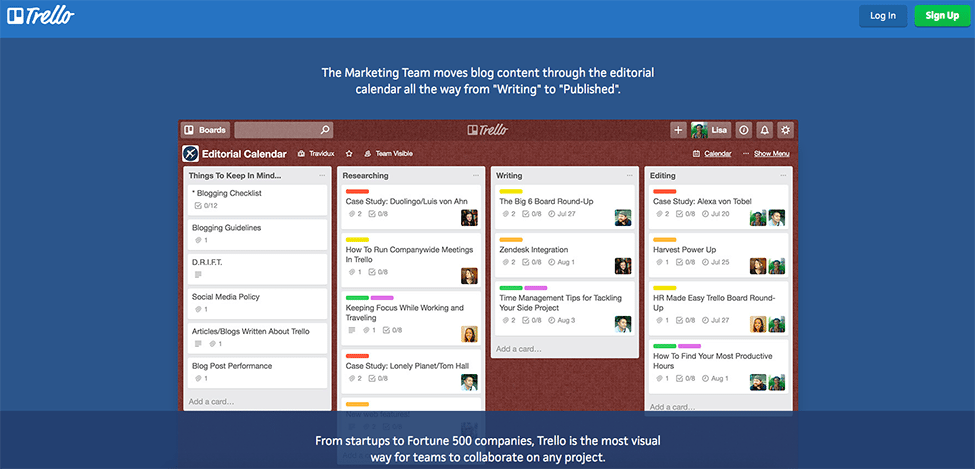 Trello is one of the most popular project management platforms. This platform is designed to help you combine every team member's task lists, manage ongoing tasks, and coordinate your projects. The platform's popularity could be due to its easy-to-use cards, boards, and lists, which make it easy to see at a glance what's been done and checked off and what's remaining. Trello can integrate with certain apps to make it easy to import workflow data. If you're looking for a visual way to organise, coordinate, and manage your teams and projects, Trello comes highly recommended.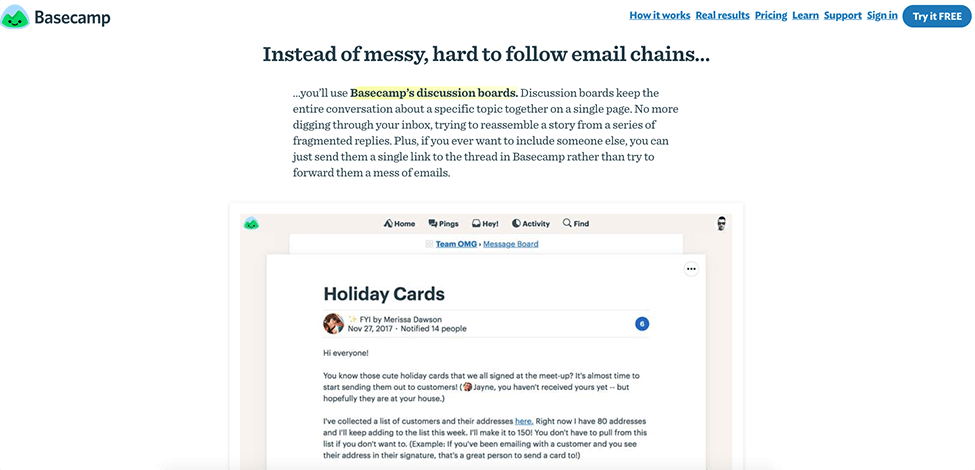 With millions of users, Basecamp is a project management platform with a difference: the platform incorporates a client-facing feature that lets you send completed projects directly to clients. Clients can then send feedback through email and Basecamp, and the system keeps all the feedback documentation so you have an automatic running record of everything the client sends. You can manage multiple projects, and utilise instant chat, message boards, to-do lists, calendars, and document-sharing features.
Instead of maintaining email lists and manually sending out an email every time you share a document, try sharing via Dropbox. This cloud-based document-sharing platform lets you share with a click. Users can view and edit documents, and collaborate in real time with instant updates. All your documents are kept in the one location and synced across devices, so you can view on your phone on the go and edit when you get back to your workstation.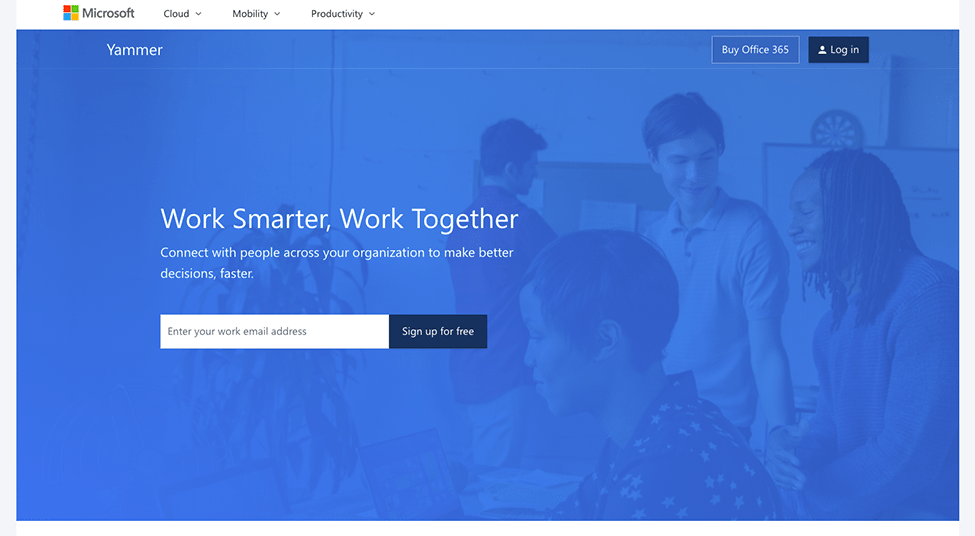 Create your own private social network with Yammer, a Facebook-like platform where you can share files, photos, and conversations. Create groups for specific projects, and post messages and updates to keep your team up to date. Share files and documents through Yammer to provide context for your team members or even customers. Yammer is available as a mobile app as well, so your staff can stay connected on the go.
Use Fuze Meeting for high-quality video conference collaboration. With HD audio, document sharing, animation, instant-messaging, and multimedia features, Fuze is a flexible video-collaboration platform that's easy to use. You can access your conferences with a VoIP phone, smartphone, computer, or other device. The platform can be integrated to allow scheduling from Google or Microsoft Outlook.
Interact is a fully featured platform for building your own intranet for collaboration across your team. The platform is designed to facilitate forums, directories, and other workflow tools. With additional idea-sharing features like reviewing and voting on individual ideas, Interact can be an indispensable tool for team projects focused on creative ideas, brainstorming, and problem solving. Integrated into the platform is a content management system, a forum tool, analytics tools, an integrated calendar, and a task management function.
If you're looking for a lightweight task management tool, I Done This is a straightforward team progress track platform to use. Use I Done This to conduct daily check-ins with your team, set up progress reports to track work in detail, and manage your teams throughout each task. Once you're done with a project, use the detailed progress reports function to generate powerful reports to gain insights about your team's effectiveness.
Speed up your team collaboration with Samepage, a platform designed to support co-authoring of documents and sharing of files. Other features include task and calendar management, diagram drawing, spreadsheets, chat, and video calls. With a wide range of tools and compatibility with hundreds of apps, Samepage could be a great workflow and project-management platform to try.
Another ideal platform is ProofHub.com
A place for all your projects, teams and communications
Bring down the project delivery time.
Get better control over projects & team communications.
Make teams more accountable.
Achieve better work satisfaction.
Utilise tech tools to help your small business thrive
Every organisation has its own unique needs when it comes to collaboration and collaboration, so there's no one perfect platform for everyone. However, with the range of options out there, you're sure to find a combination of platforms that successfully fulfil your requirements.
NexusHub is an established, trusted provider providing cost-effective yet premium coworking spaces for small businesses. Whether you're a startup, freelancer, or growing business, we have the right office solution to support your business's collaboration and growth. Explore our website for more information or contact us today for a discussion.