The kitchen probably isn't the central focus of your office design, but perhaps it should be… Research shows that the company 'breakout' area can have a big impact on productivity. Evoke Projects takes a look at the humble kitchen's role in today's workplaces.
The office kitchen, past and present
Once upon a time, the office kitchen was just a standard part of the office fit-out to provide somewhere for employees to store lunch and make a cuppa. People might stop for a chat, but probably not for too long in case they were regarded as shirkers.
Then along came the concept of the 'breakout' area, driven by companies like Google and Amazon who turned the office design and fit-out industry on its head. They recognised that motivated team members who weren't stuck at a desk all day were more creative and productive. And hey, who can argue with Amazon and Google when it comes to business growth? The breakout area became a place for people to linger a while, eating lunch, chatting over coffee, or enjoying a change of scenery for a meeting or a brainstorming session. Nobody was shirking. Work was simply happening in a new way.
As Heidi Denning, Global Speaker and Educator, says, 'The competition to attract, retain and enthuse great people gets tougher each year. And as people become more aware of how work can impact their physical, mental and social health, then we need to try harder to create workplaces that encourage vitality, collaboration and rejuvenation.' 1
As new workplace designs were embraced, the kitchen became the centrepiece of many breakout areas, and new office fit-out designs contained larger kitchens with better facilities.
Food in the spotlight
Food is a kitchen's reason for existence, and as people come together to eat, the mind is refuelled and the magic happens.
Blake Jackson,  from Stantec, reflects that the breakout space is a communal setting 'where silos and ranks come to share stories, ideas, and build relationships through inclusiveness'. He believes the kitchen is the heart of the office and recommends 'mindful eating' in spaces that are 'open, welcoming, accessible, centrally located, and able to facilitate both work and leisure activities.'
Evoke Projects has written extensively about the WELL Building Standard™ (WELL), which supports office fit-outs that promote health and well-being through best practice office design. Nutrition is part of the WELL Standard, and Blake highlights how WELL requires fruit and vegetable options to be sold on-site. He also refers to WELL's Mindful Eating criteria that awards credit for providing an eating space to accommodate a minimum of 25% full-time equivalency (FTE) occupants to help promote healthy eating practices and socialisation.2
The saying 'food for thought' has never been more relevant than for breakout spaces!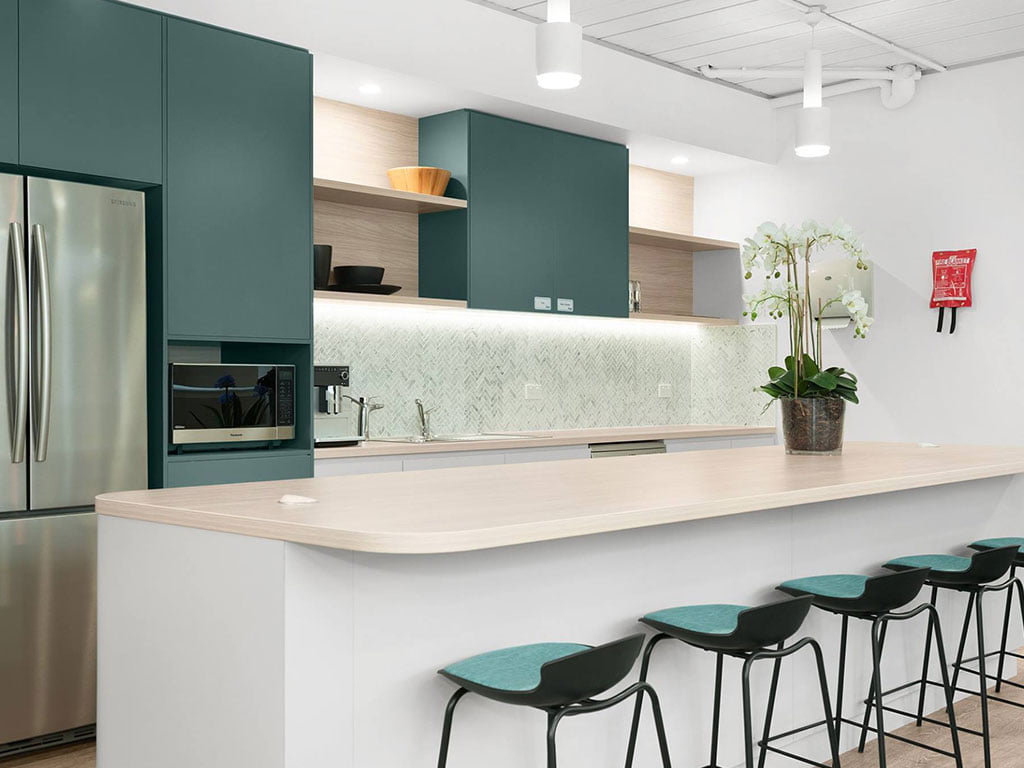 Adding a breakout area to your office design
Building a breakout area around the kitchen has a lot to recommend it. If you are about to undertake a new office fit-out, your office design team can make the kitchen the centrepiece or create a space adjacent to the kitchen. For smaller offices, the latter might be preferable if meeting and collaborative spaces are limited. Kitchens can be noisy places, so a small breakout space with beeping microwaves and humming coffee machines could be distracting.
If a new office fit-out is some years away, consider refurbishing a meeting room to become a multi-purpose zone. Add funky wallpaper or a mural, a variety of café chairs and lounge style furniture with splashes of colour to stimulate the brain. If a room refurbishment is not in the budget yet, you could create a simple breakout area using screen dividers and plants as 'room' borders. A small whiteboard will make it easy for people to turn coffee time into creative time.
To make your breakout space a talking point both in and out of the workplace, add a little low-cost quirkiness to your next office refurbishment… maybe a hammock, a treadmill desk, a living wall or a rocking chair.
Remember that breakout spaces have a real impact on motivation and productivity. Don't underestimate the effect this can have on your business, particularly as the Millennial workforce grows. One study reported 12% higher productivity from happiness alone. Another report indicated that employees who were fully motivated would increase their productivity by 25 percent!
Article by our friends at @Evoke Projects.  Henry Kendall engaged Evoke Projects to create an office design and fit-out where flexible workspace is key. It needed to be high-tech, collaborative and functional and provide people the opportunity to collaborate, network and be innovative. 
Evoke Projects can help you plan your next office fit-out or office refurbishment to include a breakout space that boosts productivity in your workplace. Please call our office design team on 1300 720 692.
1. https://www.linkedin.com/pulse/human-centred-design-plus-education-creates-healthy-thriving-dening/
2. https://ideas.stantec.com/workplace-office/the-heart-of-office-the-kitchen-s-crucial-role-in-workplace-wellness-and-productivity?utm_source=linkedin&utm_campaign=ideas
3. https://www.fastcompany.com/3048751/happy-employees-are-12-more-productive-at-work
4. http://fticommunications.com/2016/08/motivated-increase-productivity-25-good-thats-start/